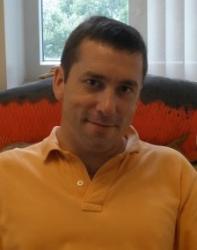 Matthew Parsek
University of Washington
Professor, Department of Microbiology, School of Medicine, University of Washington, U.S.
Dr. Parsek received his B.S. in biology from the University of Illinois at Champaign-Urbana. He received his Ph.D. from the lab of Ananda Chakrabarty at the University of Illinois at Chicago Medical Center. He did a post-doctoral fellowship at the University of lowa with Peter Greenberg. Dr. Parsek has been a Professor in the Department of Microbiology at the University of Washington since 2011. He is a member of the American Academy of Microbiology and was named a Kavli fellow by the National Academy of Sciences.

Research Topics:
microbial communities, biofilms, quorum sensing
Honors and Awards:
1993 Outstanding Student Research Presentation UIC's Tenth Annual Molecular Biology Retreat
1993-1995 Graduate College Fellowship (U. of Ill. at Chicago)
1997-1999 NIH Post-Doctoral Research Fellowship (NRSA)
2000 Searle Fellowship 2002 NSF CAREER award
2003 Co-organizer of ASM Biofilms meeting, Victoria, B.C.
2007 Co-organizer of ASM Biofilms meeting, Quebec City, Canada.
2008 Miller lecturer, Iowa State University
2009 Co-organizer of ASM Biofilms 2009, Cancun, Mexico
2010 Betley Lecturer, University of Wisconsin, Madison, WI
2011 Co-organizer of Eurobiofilms 2011, Copenhagen, Denmark
2012 Co-organizer of Biofilms V, Paris, France
2012 Co-organizer of ASM Biofilms 2012, Miami, FL
2012 Kavli Fellow (Awarded jointly by the Humboldt foundation and National Academy of Sciences).
2013 Fellow, American Academy of Microbiology
2015 Chair: Microbial Adhesion and Signal Transduction Gordon Conference
2017 Co-organizer of ASM conference: Innovative Approaches and Concepts for Mitigation of Antibiotic Resistance and Bacterial Diseases
2017 Plenary lecturer, Wind River conference on Prokarytoic Biology

Publications:
1.The Versatile Pseudomonas aeruginosa Biofilm Matrix Protein CdrA Promotes Aggregation through Different Extracellular Exopolysaccharide Interactions. Reichhardt C, Jacobs HM, Matwichuk M, Wong C, Wozniak DJ, Parsek MR. Journal of bacteriology. 2020 Sep; 202 19:
2.PelX is a UDP--acetylglucosamine C4-epimerase involved in Pel polysaccharide-dependent biofilm formation. Marmont LS, Whitfield GB, Pfoh R, Williams RJ, Randall TE, Ostaszewski A, Razvi E, Groves RA, Robinson H, Nitz M, Parsek MR, Lewis IA, Whitney JC, Harrison JJ, Howell PL. The Journal of biological chemistry. 2020 Aug; 295 34: 11949-11962
3.Elevated exopolysaccharide levels in Pseudomonas aeruginosa flagellar mutants have implications for biofilm growth and chronic infections. Harrison JJ, Almblad H, Irie Y, Wolter DJ, Eggleston HC, Randall TE, Kitzman JO, Stackhouse B, Emerson JC, Mcnamara S, Larsen TJ, Shendure J, Hoffman LR, Wozniak DJ, Parsek MR. PLoS genetics. 2020 06; 16 6: e1008848
4.Correction: Heterogeneity in surface sensing suggests a division of labor in populations. Armbruster CR, Lee CK, Parker-Gilham J, de Anda J, Xia A, Zhao K, Murakami K, Tseng BS, Hoffman LR, Jin F, Harwood CS, Wong GC, Parsek MR. eLife. 2020 May; 9:
5.Social Cooperativity of Bacteria during Reversible Surface Attachment in Young Biofilms: a Quantitative Comparison of Pseudomonas aeruginosa PA14 and PAO1. Lee CK, Vachier J, de Anda J, Zhao K, Baker AE, Bennett RR, Armbruster CR, Lewis KA, Tarnopol RL, Lomba CJ, Hogan DA, Parsek MR, O'Toole GA, Golestanian R, Wong GCL. mBio. 2020 02; 11 1:
Special National Responsibilities:
2000-present Ad hoc reviewer for NIH study sections (BM1, BM2, DDR, BACP and SSS-K study sections). 2001-present Panelist for BSF signal transduction panel 2016 ad hoc panelist for CFF foundation training fellowships.
All Sessions by Matthew Parsek