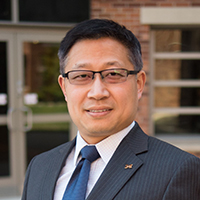 Chuanwu Xi
University of Michigan
Professor, University of Michigan, U.S.
Dr. Xi is a molecular microbiologist and microbial ecologist. His research focuses on biofilms, water quality and treatment and human health in three major inter-related areas: (A) molecular mechanisms of biofilm development; (B) characterization of biofilms and microbial community in industrial and clinical settings and its impact on human health; and (C) development of novel approaches for biofilm control. Prior to joining the faculty of the University of Michigan in 2005, he spent four years at the University of Illinois at Urbana-Champaign and received his PhD from Katholieke Universiteit Leuven, Belgium in 2000.
Education:
PhD, Applied Biological Sciences, Katholieke Universiteit Leuven, Belgium, 2000
M.Sc., Molecular Microbiology, Guangxi University, China, 1996
B.Sc., Biology, Anhui Normal University, China, 1993
Professional Affiliations:
American Society for Microbiology
American Water Works Association
International Water Association
Association of Environmental Engineering and Science Professsors (AEESP)
International Society of Microbial Ecology
Specialties: Biofilms, water quality and water treatment, bio-imaging, molecular microbial ecology, antibiotic resistance, environmental genomics, infectious diseases and infection control, Acinetobacter baumannii and Helicobacter pylori, and global health.
All Sessions by Chuanwu Xi