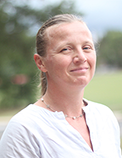 Birthe Kjellerup
University of Maryland
Associate Professor, Department of Civil & Environmental Engineering, University of Maryland,U.S.
Dr. Kjellerup obtained her M.S. in 1997 and Ph.D. in 2004 at Aalborg University, Denmark. During her graduate studies, she was trained at Center for Biofilm Engineering (CBE) in Montana, and this collaboration has continued. Dr. Kjellerup was a postdoctoral fellow at Center of Marine Biotechnology in Baltimore, where she continued her work on bioremediation and environmental biofilms until 2009, when she became an assistant Professor at Goucher College, Baltimore. In January, 2015, Dr. Kjellerup accepted her current position at University of Maryland at College Park, and has become an associate professor since 2019.
What's more, Dr. Kjellerup is the professional memberships of Association for Women in Science, International Society for Microbial Ecology, The Society for Environmental Toxicology and Chemistry, American Society for Microbiology (Maryland Branch), and American Society for Microbiology.
Research Interests:
Evaluation of identity, diversity, and activity in microbial biofilms in complex microbial systems such as sediment, soil, urban water systems, and the human body, Aerobic and anaerobic degradation of polychlorinated biphenyls, Biocorrosion in drinking water and oil distribution pipelines, Invertebrate host-pathogen model Caenorhabditis elegans for in vivo biofilm infections.
All Sessions by Birthe Kjellerup